Strewth, bloody, rooted: is there a quintessentially Australian swear phrase? | Society
Linguist Geoffrey Hughes writes that "people swear by what helps them the most".
What seems to be a "very powerful" movement changes over time, although propaganda often focuses on religion (hell), immorality (and immorality). Racialism, bigotry and other forms of prejudice have recently become our vocabulary and contention.
The first recorded events in any language from ancient Egypt, around 1198-1166 BC, are threats that those who fail to offer sacrifices to the gods should follow the donkey. Examples of profanity can be found in ancient Greek and Latin (the most popular curse in Rome was "By Hercules!"), And we have evidence of a sworn oath in ancient Europe.
By ancient times most of what was considered superstitious was religious, showing that Christianity was the original religion in Western Europe. Christians fear that their souls will be persecuted, and this leads to curses that combine to throw one's life into a superhuman hell.
From the middle ages we can gradually follow the change of vows, or religious vows, to the abominations associated with pornography and sexual immorality. Oaths have been popular for a long time, and many view them as inferior to this day. However, over time they gradually lost their religious possessions to a lesser degree and in the 21st century are seen as a reflection of class and education.
Charles Dickens, a prolific writer and activist, never used a more powerful word than drat
Queen Elizabeth I (1533-1603) was a solemn oath, and her favorite curse is said to be "the wounds of God", which is considered a blasphemy at the time because it describes the wounds inflicted on Jesus when he was crucified. The wounds of God are therefore sometimes abbreviated as zound, an example of what is known as "vows". All swearing produces "hidden forms". In short, we look instead for unacceptable words and polite expressions. Zound and gadzooks (the skins of God) have already fallen by the wayside, but we can still hear darn (from damn), fudge (fuck), gosh (God), and Australian crikey (Christ) and strewth (divine truth). , though most people may not be aware of the relationship that exists between the initial mockery.
By the 18th century, slander was widely reported in the media. The word fuck, for example, appeared in Nathaniel Bailey's Universal Etymological Dictionary in 1721 but did not appear in Samuel Johnson's famous translation in 1755. From the 18th century onwards the rise of governors meant that good movements, modifications and developmental manifestations seemed to indicate merit. moral and social values. As a result, swearing was viewed as unacceptable.
Writers like Charles Dickens, who often writes about working groups and lawbreakers, never used a stronger word than drat, often clinging to praise. From the 18th century onwards, printing also used a variety of subtitles and disguises to avoid publishing obscene words, ranging from asteris and other punctuation marks (f ** k) to pointers to substitutes such as blank words with four letters. It is obvious that readers almost always know what is meant in such times, which is why such experiments in helping to keep "pure" ideas remain questionable but only mean criticism. We see this today when television and radio continue to "produce" voices, though it is often clear what the person is saying.
From the 18th to the 19th century, the English language began to be tested, based on the size of the printing press that required the same standards, as well as the rise of the notion that education and reading were universal. Dictionaries are one of the most important tools in the field of language development, as well as a practical application. Profanity and profanity are known to be such or are changed from modern English (as seen above by Johnson's dictionary), and encourage the "separation" of such language. This attitude began to change in the 20th century.
Patriotism and colonialism, another notable feature of the 18th and 19th centuries, made white people more likely to meet other people. Site management and other factors were significantly affected and were encouraged by language and genetic science and diversity. Racial language, profanity and slander became widespread and popular in the English language, promoting and promoting ideologies of pure and colonial culture. It seemed legitimate, and it wasn't "bad" language on the se – especially for those who use it.
Our politicians are often not afraid to use abusive language
It was during this difficult period of the late 18th century that Australia was designated a prison camp. The violent, antagonistic and rhetorical movements of Britain in the 16th and 17th centuries were paving the way for British rule, dignity and development. Ideas about language and its purpose will be transferred to a colonial group formed into antipodes.
By the 19th century, bad language could help to make sense of what it meant to be an Australian, following the white and masculine Australian architecture. Hiding, herdsman, gold digger, war digger: All Australians can be connected to the filth, especially the iconic images, to help make such a language popular. At the same time respectful attitudes can lead to the use of foul language, especially by vulnerable groups in the Australian region, such as women, workers and Indians, something to be avoided and criticized for. Such misconceptions about bad language persist until the 21st century.
So is there an Australian oath? In the 19th century the explorer, Alexander Marjoribanks, in his book Travels in New South Wales (1847) stated that the word blood is everywhere in Australia – literally, he said, "the great Australian adjective". Walking through the area reluctantly he noticed that "[o]Someone might tell you that he married a young bloody woman, another, an old bloody woman; and the bush will cry out, 'Stop, or I will blow up your bloody brain.' "It has been found that an Australian cattle herder – a well-known person in the history of bad language in Australia – can say," these "abominations" in their lifetime, at least 18,200,000.
Sidney Baker in his previous study of Australian English, The Australian Language (1945), is known to be bloody and one of the so-called "four B's", sitting next to bugger, bastard and bullshit. No one is exclusively Australian, yes, but everyone can start a lot of Australian relationships for most of us, and they have been used successfully in our history. We can recall when Bob Hawke was arrested for calling people a "stupid old man", the establishment of Don Chipp for Australian Democrats with the words "Be honest bastards", and Malcolm Turnbull writing a commentary on Tony Abbott's climate change "bullshit ", Initiating a dispute between the two which could lead to the overthrow of prime ministers. Our politicians are often not afraid to use abusive language.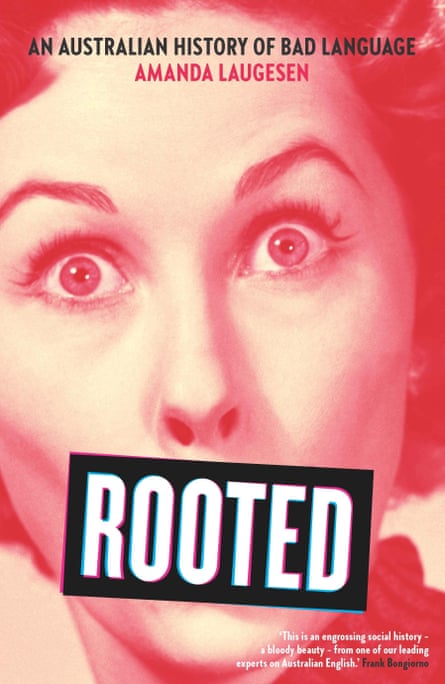 Photo: New South Books
The root invaded English Australia in the 1940s and established itself in the lexicon. While our first and foremost evidence of the root meaning of "root, destruction, exhaustion", comes from the root of the real meaning of sexual immorality (both nouns and verbs first written in 1958). According to the Australian National Dictionary, the origin of the word probably comes from the root "penis". By the 1950s a popular practice was to use rooting in a filled or irritated way, as well as to focus on the idea of ​​"tired, tired".
The Wellington boot song was composed in 1977, but no doubt already existed when the first evidence is abridged – Wellington, first recorded in 1970. Future descriptions of the root include root au (car, usually panel van, with a mattress) and a mouse male (immoral person). Unlike other Australians, the roots have remained an unknown word in Australia, and not well understood by foreigners.
Acknowledging the notion that Australians have a special relationship with bad language would be an understatement of national myths – which most Australians like to do – that we are more comfortable speaking our English language than others who speak English. We are well-known for our word-of-mouth transmission and metaphors, and this can lead to frustration. The online newsletter Buzzfeed published a list of "100 worst things Australians have said" in 2016. The list reveals the strangest and most ridiculous: clever like a rat, to have hair like a pig's duck, dickflop not here to catch spiders it's just a few. While it's hard to say we swear more than others, we do our best – and we try to be sensible in doing so.
This is an updated version of Rooted – An Australian History of Bad Language, by Amanda Laugesen (New South Books, $ 32.99)