Norman Thrower obituary | Maps
My mother-in-law, Norman Thrower, who died at the age of 100, was a professor of geography at the University of California, Los Angeles. From the very beginning, Norman has been one of the world's leading cartographers.
In 1957, Norman contacted the geography department at UCLA, where he wrote, authored and edited 11 books, and more than 150 contributions to photography and discoveries. They carried out their work, UCLA and the state of California in many places, including the President of the Sir Francis Drake Commission (1975-81), which organized celebrations with Dradake in California in 1579.
Born in Crowthorne, Berkshire, Daisy (nee Bayley) and Gordon Thrower, a cook at Broadmoor psychiatric Hospital, Norman failed 11 years and did not go to high school.
After winning competitions and photographing a technical school at the University of Reading, he joined the 21-year-old British army. Their army was relocated to India, where they also trained as mappers in the Survey of India to map maps in Europe. The map was related to aerial photographs taken in Europe and then to India, where return flights retrieve completed maps. This affected the timing of Operation Crossbow, one of its aims was to identify V-1's early detection systems using imaging, including in the north of France the day before. These developments played an important role in Norman's post-war career and in the development of new mapping techniques introduced in his PhD to illustrate the three-dimensional dimensions.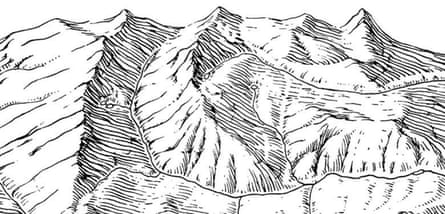 One of Norman Thrower's beautiful 3D graphics. Example: Norman Thrower
Norman first met Betty Martin, a senior member of the US Army Nurse Corps, in 1945 when her boat arrived in London, although she had been a penman for several years. Norman and Betty were married in 1947 and, the following year, arrived in Charlottesville, Virginia, living in the barracks while Norman did a BSc and an MSc in geography at the University of Virginia, where he was attracted to Erwin Raisz, a world-renowned cartographer. With their first two daughters, they moved to the University of Wisconsin, Madison, where Norman earned his PhD. The last immigration to California, in 1957, was the birth of their third daughter.
His best-known book is Maps and Man (1972), now Maps and Civilization: Cartography in Culture and Society (1999). Future works focus on the progress of the 17th and 18th centuries writers Edmund Halley and Samuel Pepys. And, finally, the preparation of the Buccaneer Atlas: Basil Ringrose's South Seas Wagoner, and Derek Howse (1992), combined with a map taken of Spanish Pacific ports whose profits from the British crown saved many oppressors.
Betty died in 1997. Norman is survived by his daughters, Page, Anne and Mary, and five grandchildren.